Diversity and conservation of orchids rescued from logging concessions in Malaysia, and DNA barcoding of selected flagship species
By Rusea Go, Edward Entalai Besi, Mohd Ridza Awang, Mohd Ridzuwan Endot, Edevaldo J. Yapp, Norulhuda Ali, Runi Sylvester Pungga & Wong Ing Yung
01 July 2022
Habitat destruction, illegal collection and trade are among the major threats faced by wild orchids worldwide. Together, these threats contribute to orchid decline and can bring about the extinction of species even before we know they exist. Orchids are especially vulnerable due to their attractive flowers and high commercial value. Many species, including rare and recently described ones, can increasingly be found on sale via social media, such as Facebook and Instagram, as well as on virtual shopping platforms; increasingly, orchids are advertised on individual and privately owned nursery websites, too. In Malaysia, many of the orchids traded in this way have been poached from the wild, including from logged-over forest.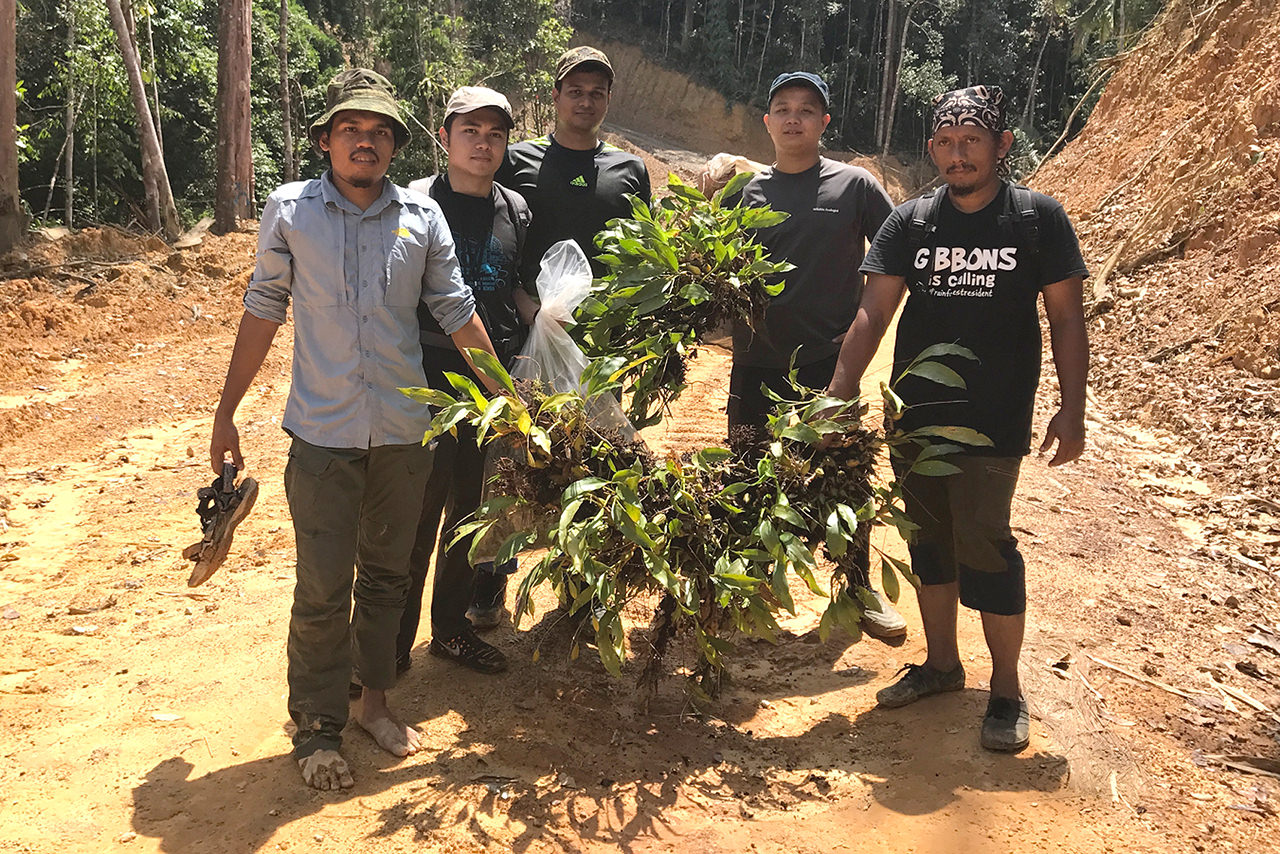 However, it would be unfair to blame the collectors without knowing more about the underlying factors that drive this trade. The involvement of local collectors should not be viewed in isolation: researchers, hobby growers and commercial nurseries alike benefit from their actions. In Malaysia, orchid collection is often carried out in soon-to-be cleared sites once locals have found out about the imminent destruction of the forests surrounding their village. These villagers are often driven by a passion to save plants that will otherwise die. Although some of the plants they bring back to their nurseries may be sold as a source of income, many are grown on simply out of interest. Had these orchids not been collected, we might never have known of their existence. In this sense, the discovery of highly threatened species by local collectors is a last chance to reveal the full diversity of our rapidly dwindling tropical forests. At least in this way, some will be preserved in herbaria and botanical gardens.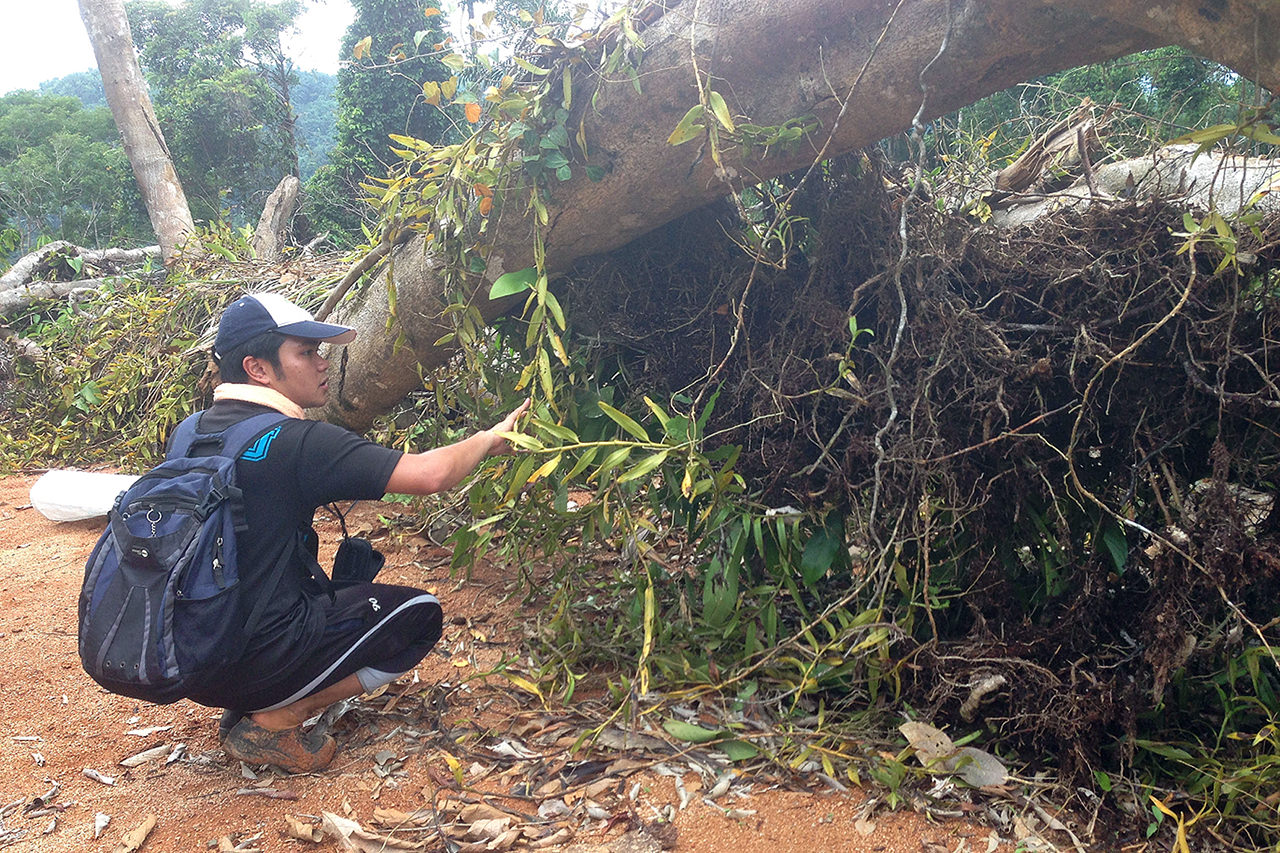 Our rescue mission
For years, we have been rescuing wild orchids from felled trees in logging concessions in Peninsular Malaysia for re-establishment in restored habitat and in the nursery for combined in- and ex-situ conservation. This requires detailed study of required microclimate conditions, as well as investigation of general forest structure. Through collaboration with local forestry departments (such as the Forestry Department of Peninsular Malaysia and the Forest Department Sarawak) and the IUCN Species Survival Commission (SSC), we intend to build and register an orchid conservation centre in which to cultivate rescued plants and thereby enable legal transfer of living materials for propagation purposes. Once candidate in-situ sites have been identified and the conservation centre established, it should become possible to distribute plants, seeds and pollen derived from rescued orchids among orchid growers and botanical gardens prior to their reintroduction into the wild.
As conservation biologists, we believe that the best way to conserve wild orchids is to educate local orchid enthusiasts and collaborate with citizen scientists to jointly rescue, propagate and then reintroduce orchids from logging sites back into their natural habitats. We anticipate that many at-risk orchids can be found in logged forests simply because of the sheer density and enormous abundance of epiphytic orchids in the crowns of felled canopy trees. Realising this underscores just how many orchids must have been lost in past decades due to the clear-felling of Malaysian forests. In recognition of this terrible fate, we now venture out in search of fallen orchids in logging concessions, in collaboration with the relevant forest department and local communities, to save and rehome orchids via ex-situ conservation. We encourage a review of current policy regulating the collection of wild orchids so as to decriminalise such activities, with certain conditions.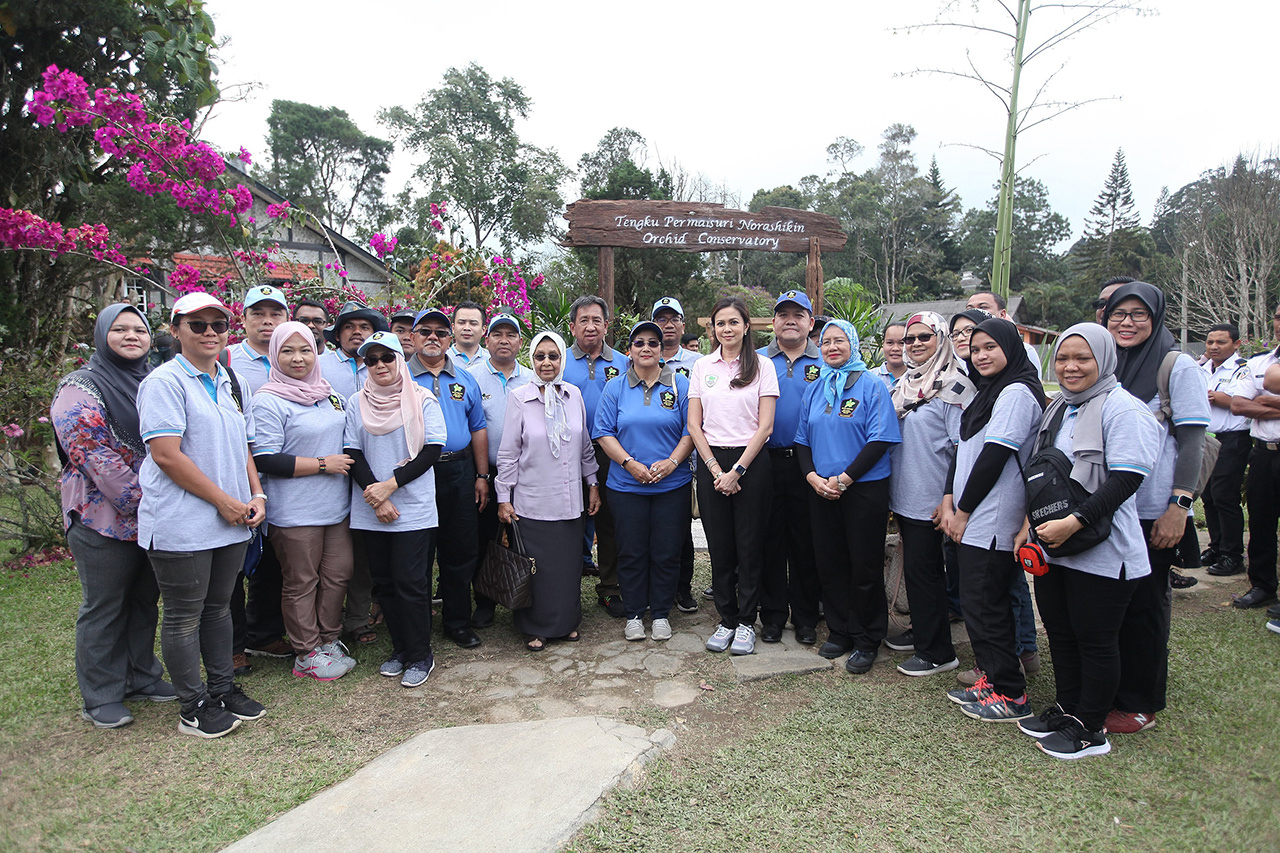 Scientist-community collaboration
We are very grateful to the many local village communities for their contribution and initiative in providing manpower during our fieldwork. These people are blessed with green fingers and have been happy to take on the responsibility of nurturing rescued plants. Their passion and involvement have driven our own interest in orchid taxonomy and propagation. And, in turn, several local orchid lovers have shown an interest in pursuing their curiosity for orchid science. The success of our approach therefore relies on mutual exchange in this scientist-community partnership.
Unfortunately, however, few experts are willing to contribute their time and resources to this initiative. All too often, scientists are reluctant to engage with the public in discussion on topics relating to policy or governance because they believe their work predisposes them to communicating only with a technical audience. Others may simply be unaware that such collaborative opportunities exist; terms such as IUCN, CITES, CBD and so on are foreign to them. This disregards the importance of scientist-community collaboration.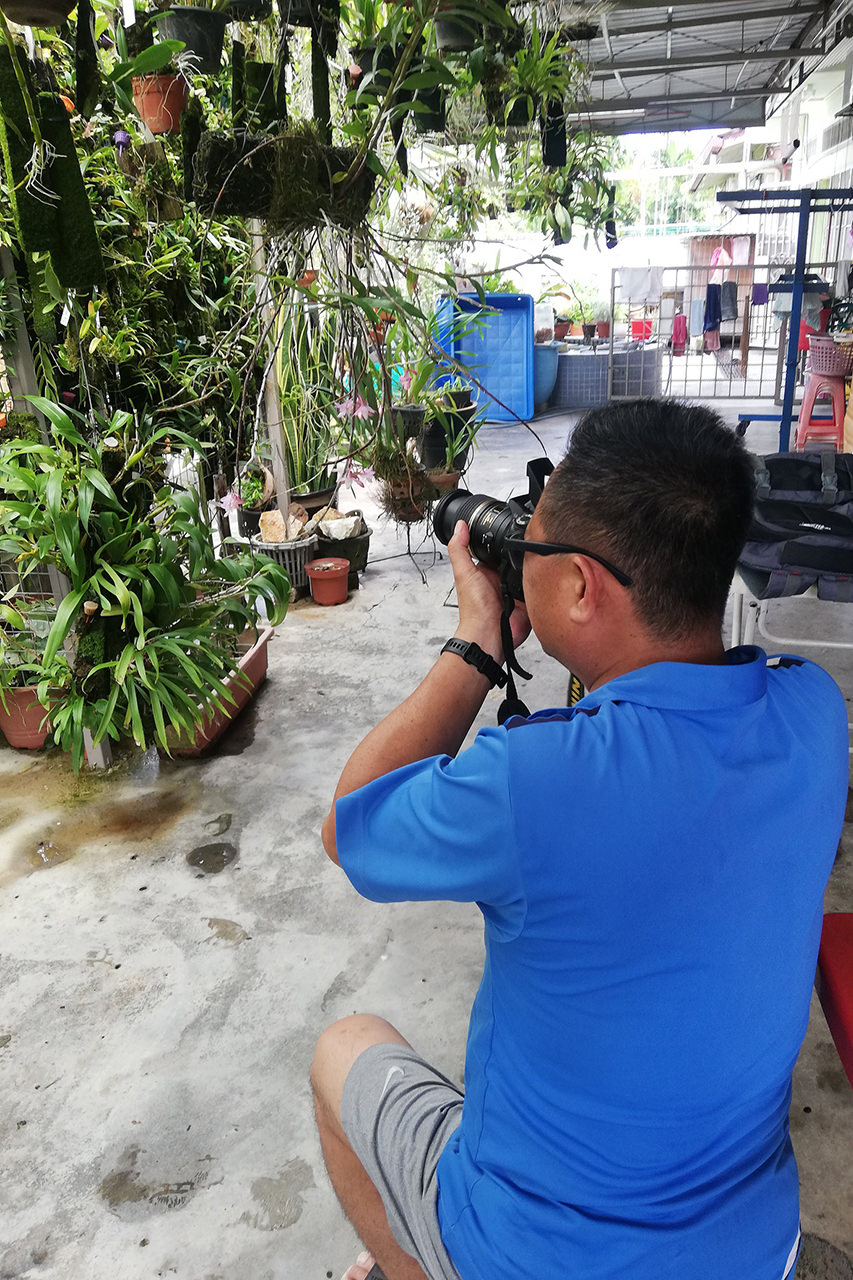 Our effective strategy for working with local communities is underpinned by frequent visits to privately managed gardens, nurseries and conservatories to survey and monitor rescued plants. We wish to meet with individual growers to understand their motivations, educate them on taxonomy and propagation, and explain our conservation framework. During the pandemic when movement was controlled by order of the Malaysian government, we made this possible through social media. We formed a local conservation team comprising not only scientists and forestry officers, but also members of various local communities. Engaging volunteer villagers to record biodiversity, detect, monitor, and survey species is a low-cost, inclusive approach. However, volunteers and citizen scientists must meet certain criteria. We select those who are truly keen to work for conservation purposes, so that their enthusiasm is not misplaced. By interacting with local people in this way, we have been able to acquire material of several newly described orchids for inclusion in our DNA barcoding project.
The role of technology
DNA barcoding has a significant role to play in conservation biology, especially in the assessment of biodiversity hotspots and to screen international trade for rare species. Owing to funding constraints and the tremendous number of species present, our approach in Malaysia has been genus-by-genus, with an emphasis on rare and endemic species. The discovery of these flagship species in both disturbed and undisturbed forests marks out sites as biodiversity hotspots, indicating the need for total protection. However, characterising a site's botanical composition demands scientific rigour to confirm species identifications, define biodiversity hotspots and understand conservation needs. Therefore, we implement an integrative approach that harnesses an assessment of both plant morphology and genetics.
Hitherto, under our project 'EBRG – DNA Barcoding of Selected Endangered and Cryptic Orchid Species', we have submitted 285 sequences of one nuclear (nrITS) and three plastid (matK, rbcL, psbA-trnH) barcode loci to the Barcode of Life Data (BOLD) system. This includes data for 42 endangered, rare or endemic orchid species. Our DNA barcoding work allows us to ascertain a correct identification and removes confusion when working with closely related species. The barcodes that we develop act as molecular tags that can be used to tackle the illegal trade of endangered orchid species in Malaysia. This project is ongoing.
Spreading the word and upscaling
To further our conservation ambitions and fulfil our role as a member of the IUCN SSC, we formed a partnership with the Silviculture and Forest Biodiversity Conservation Division of the Forestry Department of Peninsular Malaysia. This body is a national representative on the CITES Plant Committee, which works to highlight threatened species and ensure they are legally protected under the National Forestry Act 1984 (Act 313) or the International and Trade in Endangered Species Act 2008 (Act 686), and also duly included in CITES Appendix 1 or 2. Our partnership seeks to raise awareness and prevent extinction of near-threatened and threatened species. In addition to conducting collaborative field studies, we jointly designed and distributed two posters highlighting 30 endangered orchid species, including several newly discovered ones.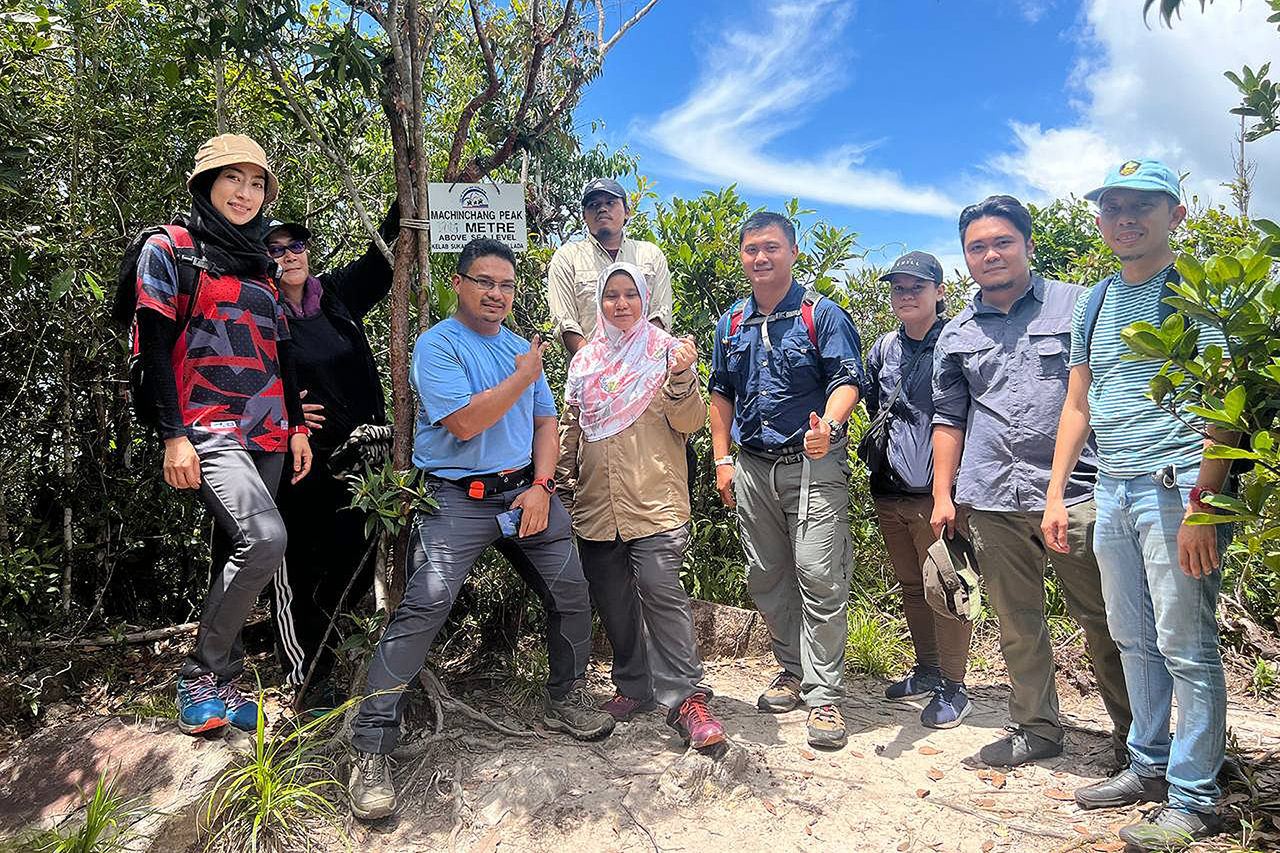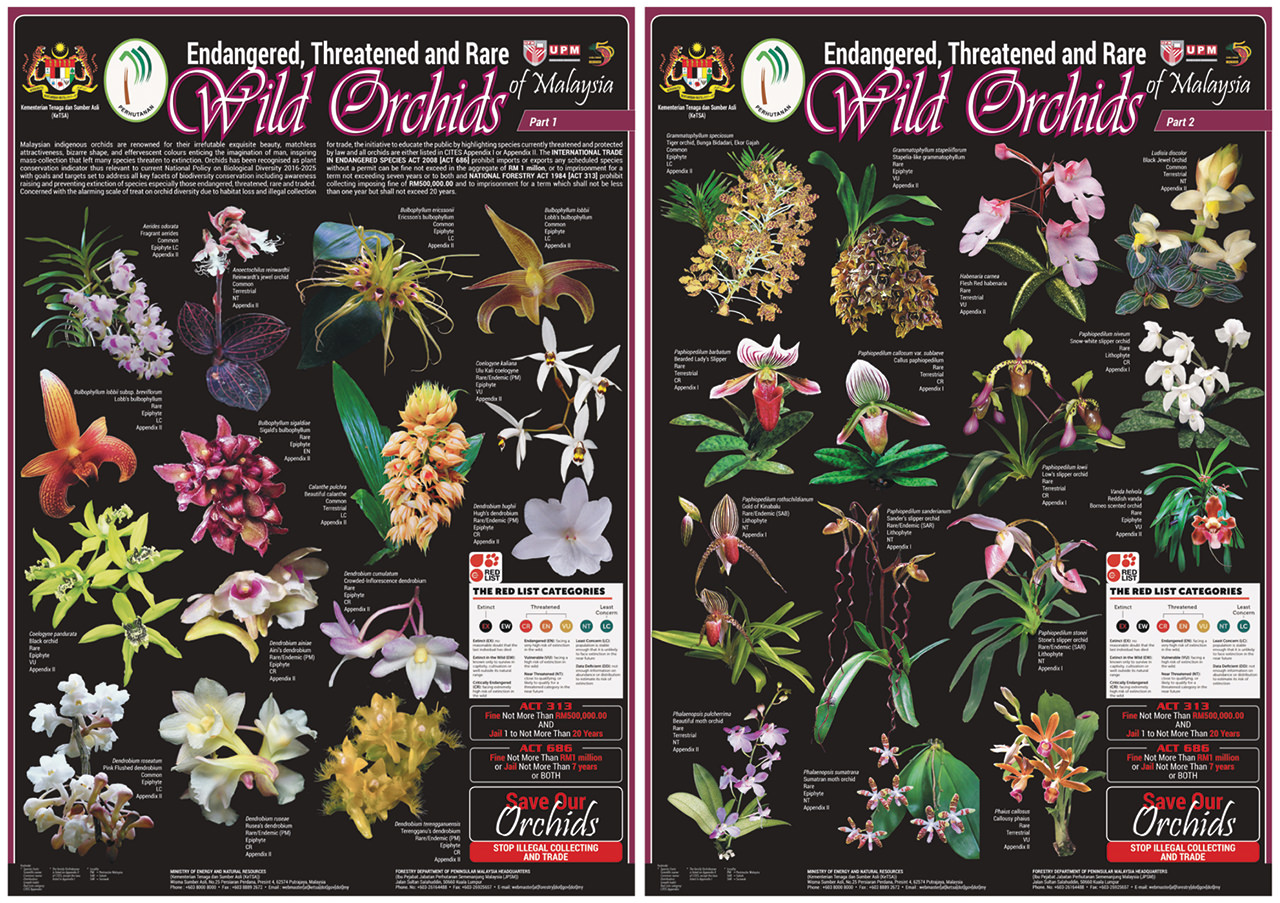 In recent years, we have also been building partnerships with timber companies to promote orchid conservation. For example, in a project spearheaded by Forest Department Sarawak (FDS) Senior Assistant Director Ms. Runi Sylvester Pungga, we established a project with Anap-Muput Forest Management Unit (FMU) to identify alternative benefits and generate income from a rescue-propagation-conservation initiative. Anap-Muput possesses a remarkably diverse flora. The area is classified mostly as mixed dipterocarp forest, with more limited areas of kerangas and some remnant (disturbed) forest patches. The high conservation and scientific value of the forest called for a thorough biological diversity assessment to ensure that the natural assets are sustainably managed for environmental and socioeconomic benefit. Biodiversity, ecological and conservation studies have so far been largely confined to the protected and undisturbed zones. It is intended that the involvement of FDS and Universiti Putra Malaysia (UPM) in efforts to conserve biodiversity in Borneo will allow for the rescue of orchids from logging sites in Anap-Muput FMU.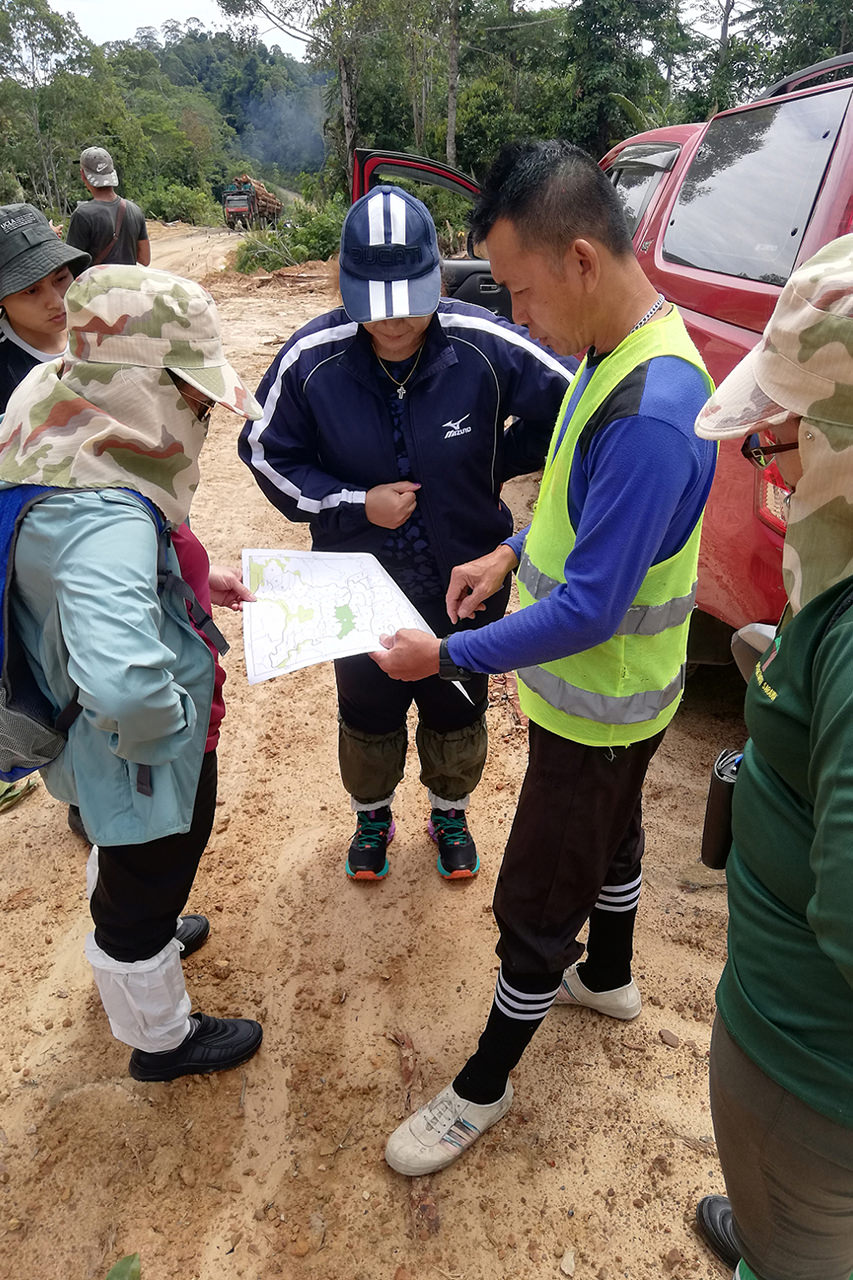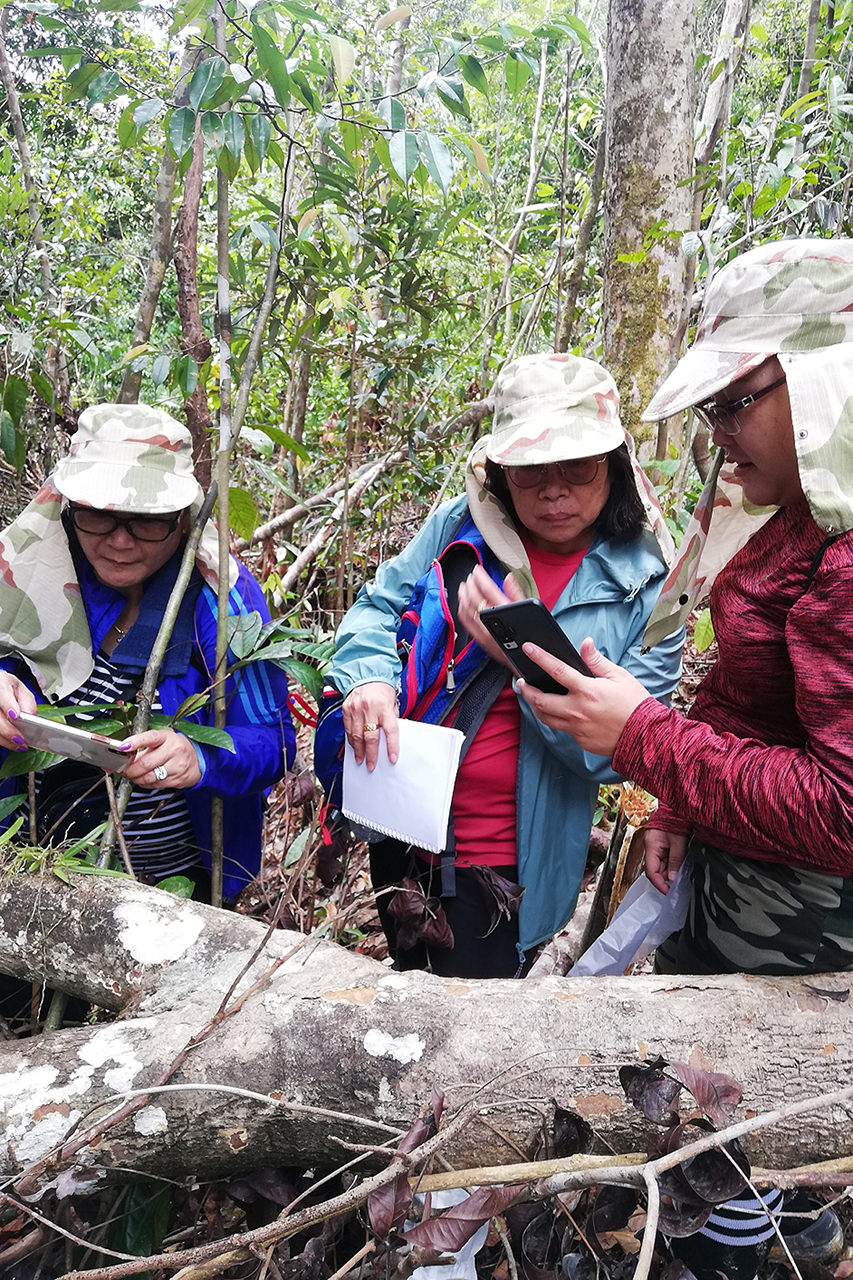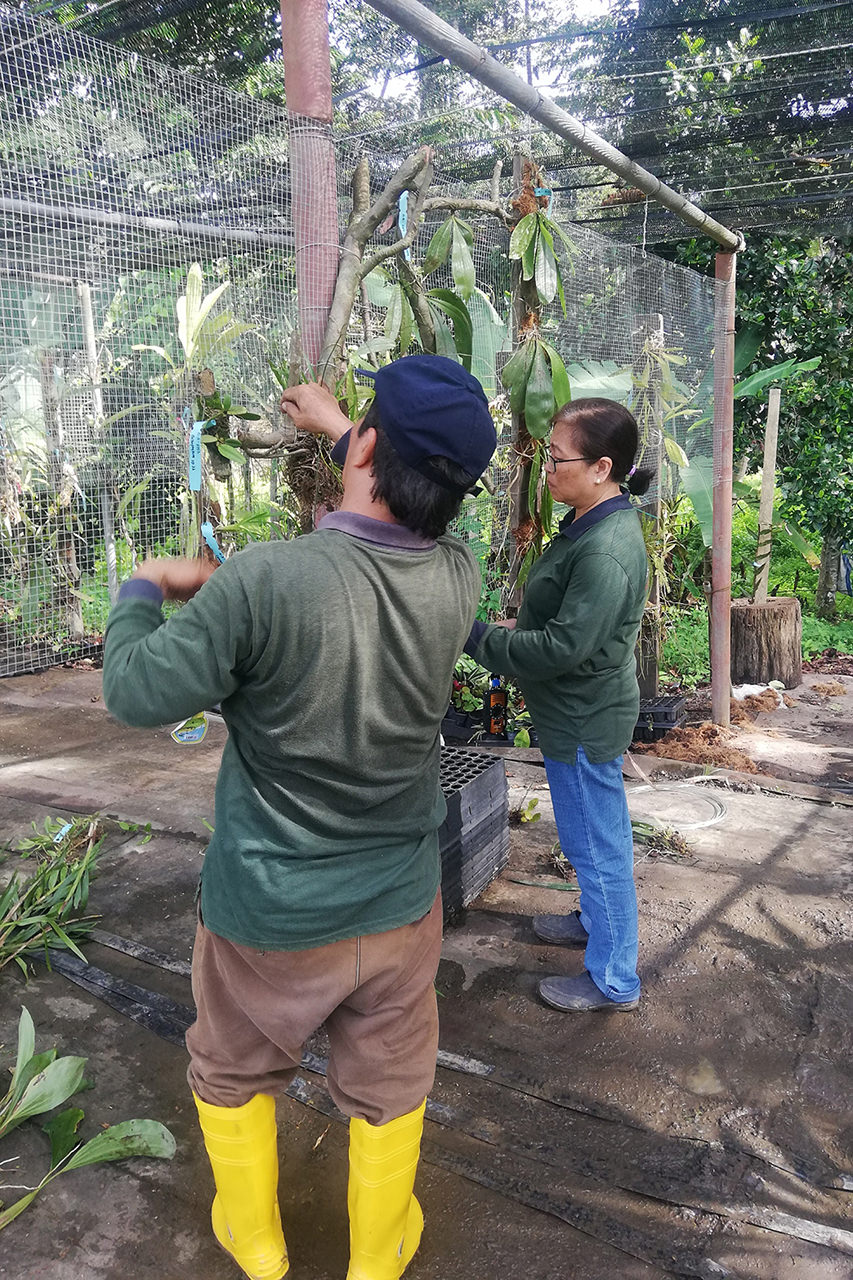 We hope that this project will serve as a model for orchid conservation and rehabilitation by highlighting opportunities for positive collaboration between researchers, government agencies and timber companies. We hope that this will lead to the establishment of facilities to enable the ex-situ conservation of germplasm for propagation and other research activities. The recent Sarawak State Government-approved allocation of MYR 5 million for the establishment of a wild orchid garden is timely and greatly applauded. As Malaysian representatives of the IUCN SSC, we feel privileged to support local and international efforts in conserving orchid diversity by providing technical expertise towards the development and execution of programmes that document, preserve, restore and manage orchids and their habitats.
Further reading
Visit these organisations' websites to learn more about their work:
And view this article on the fate of orchids in logged forests of Peninsular Malaysia from the Orchid Review:
https://www.researchgate.net/publication/344628132_The_fate_of_orchids_in_logged_forests_of_Peninsular_Malaysia
---
Rusea Go and Edward Entalai Besi work at Universiti Putra Malaysia and are Malaysia Country Representatives for IUCN SSC Orchid Specialist Group-Asia. Mohd Ridza Awang is the Director General for Forestry Department of Peninsular Malaysia. Mohd Ridzuwan Endot (Director), Edevaldo J. Yapp [Senior Assistant Director (Forest Biodiversity)], and Norulhuda Ali [Assistant Director (Forest Biodiversity Control)] are representatives from Silviculture and Forest Biodiversity Conservation Division of Forestry Department of Peninsular Malaysia. Runi Sylvester Pungga is the Senior Deputy Director (International Affairs Division) in Forest Department Sarawak. Wong Ing Yung is the owner of the Zedtee Sdn Bhd. and Management Representative of Anap-Muput FMU, Tatau, Bintulu.