In-house Training for Wild Orchid Identification and Conservation by the Forestry Department of Peninsular Malaysia
By Rusea Go, Edward Entalai Besi, Mohd Ridza Awang, Mohd Ridzuwan Endot, Khairuddin Perdan, Norulhuda Ali, Eddie Chan, Qistina Anis Mad Jabar, Debbie Sandin & Tan Sin Hoong
14 July 2023
The Forest Department of Peninsular Malaysia (FDPM) has launched an initiative to provide formal, in-house training for staff and colleagues in the Royal Malaysian Customs Service, as well as amateur orchid growers and collectors, on the identification of native wild orchids. The content and approach are based on the principles for Species Conservation Planning developed by the IUCN Conservation Planning Specialist Group. The objectives of this initiative are to (i) introduce the basics of orchid identification through primary keys, (ii) improve the knowledge and skills of Department staff in orchid identification; (iii) encourage the exchange of expertise between FDPM researchers, other agencies and its clients for the conservation and sustainable management of forest resources, (iv) raise awareness of biodiversity, orchid conservation, and environmental issues, (v) develop a team of wild orchid identification experts, and (vi) increase public awareness of orchid species conservation. The cornerstone of this philosophy is a commitment to the One Plan approach: the collaborative development of management strategies and conservation actions by all responsible stakeholders to produce one comprehensive conservation plan for Peninsular Malaysia's wild orchid species, whether inside or outside their natural habitat, primarily focusing on those that are threatened by illegal collection for trade. The result will be an integrated conservation plan, to be developed over the coming five years, that brings together forestry officers and staff, experts on orchid taxonomy and conservation, and orchid growers.
This valuable foundational course not only engaged those who already possess the skills and experience to contribute to ongoing conservation planning, but it also empowered other stakeholders who may not have previously received formal training in orchid taxonomy and ex-situ conservation techniques. The main goal was to offer face-to-face training and demonstrate the use of key morphological characters for field identification. It also allowed for skills transfer on conventional propagation techniques, and participants were invited to share their views and personal experiences in an open discussion at the end of each session, allowing them to ask questions and check their understanding of orchid taxonomy and conservation.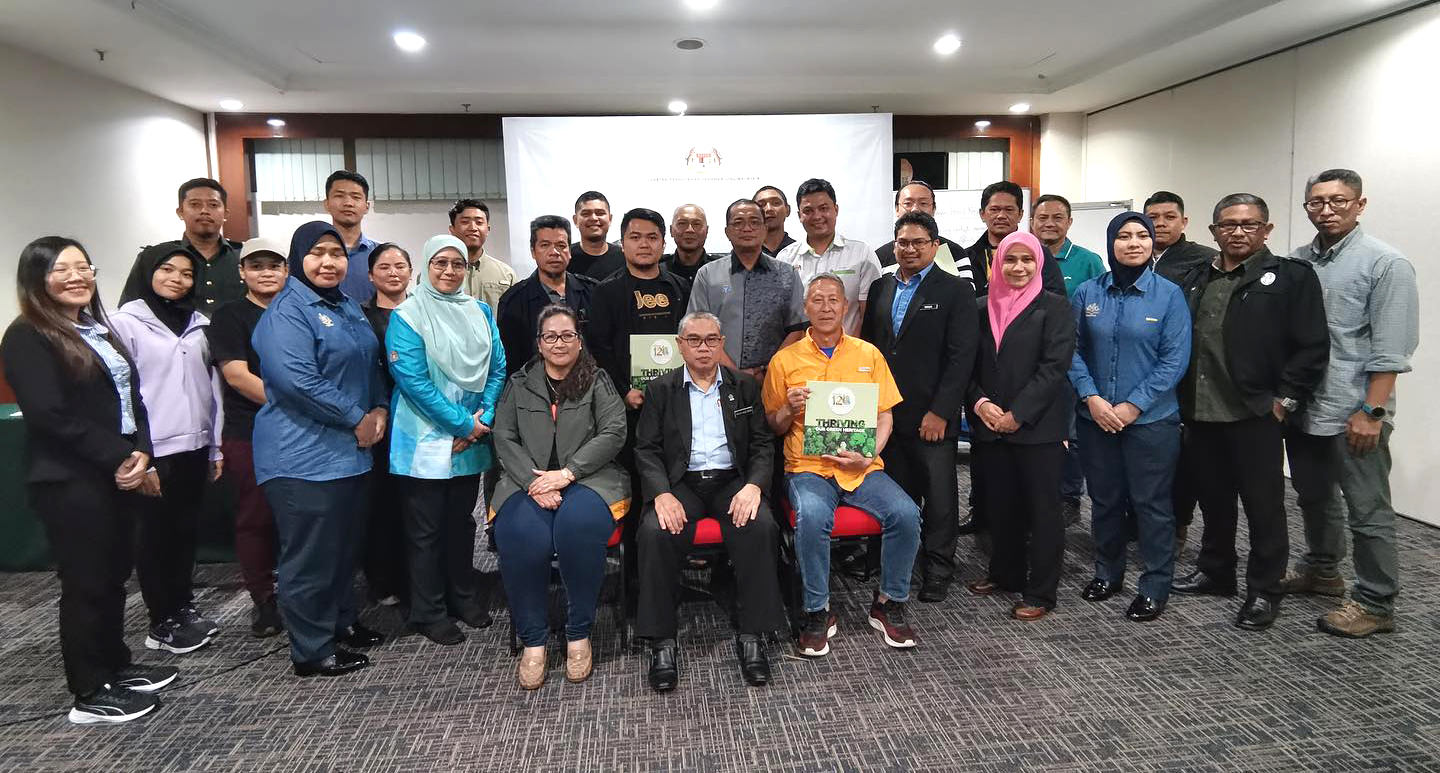 The training spanned four days, with the first two days providing an overview of the orchid family. Thematic sessions included One-Hundred Years' History of Orchid Classification and Introduction to Orchid Species Identification and Conservation Techniques.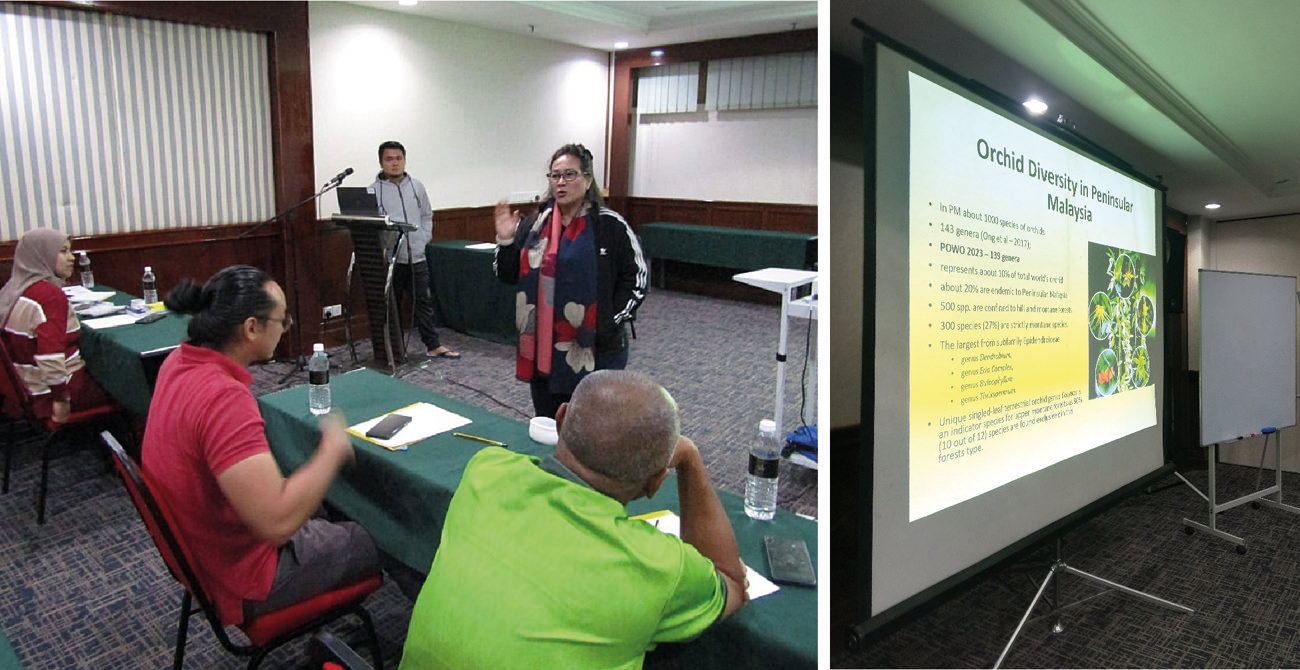 On the third and fourth days, course participants were taken outdoors and into the field for an Orchid Diversity and Ecology Fieldwork session on Mount Chin Chin in the Genting Highlands, Pahang, and along the Awana BioPark Conservation Trails.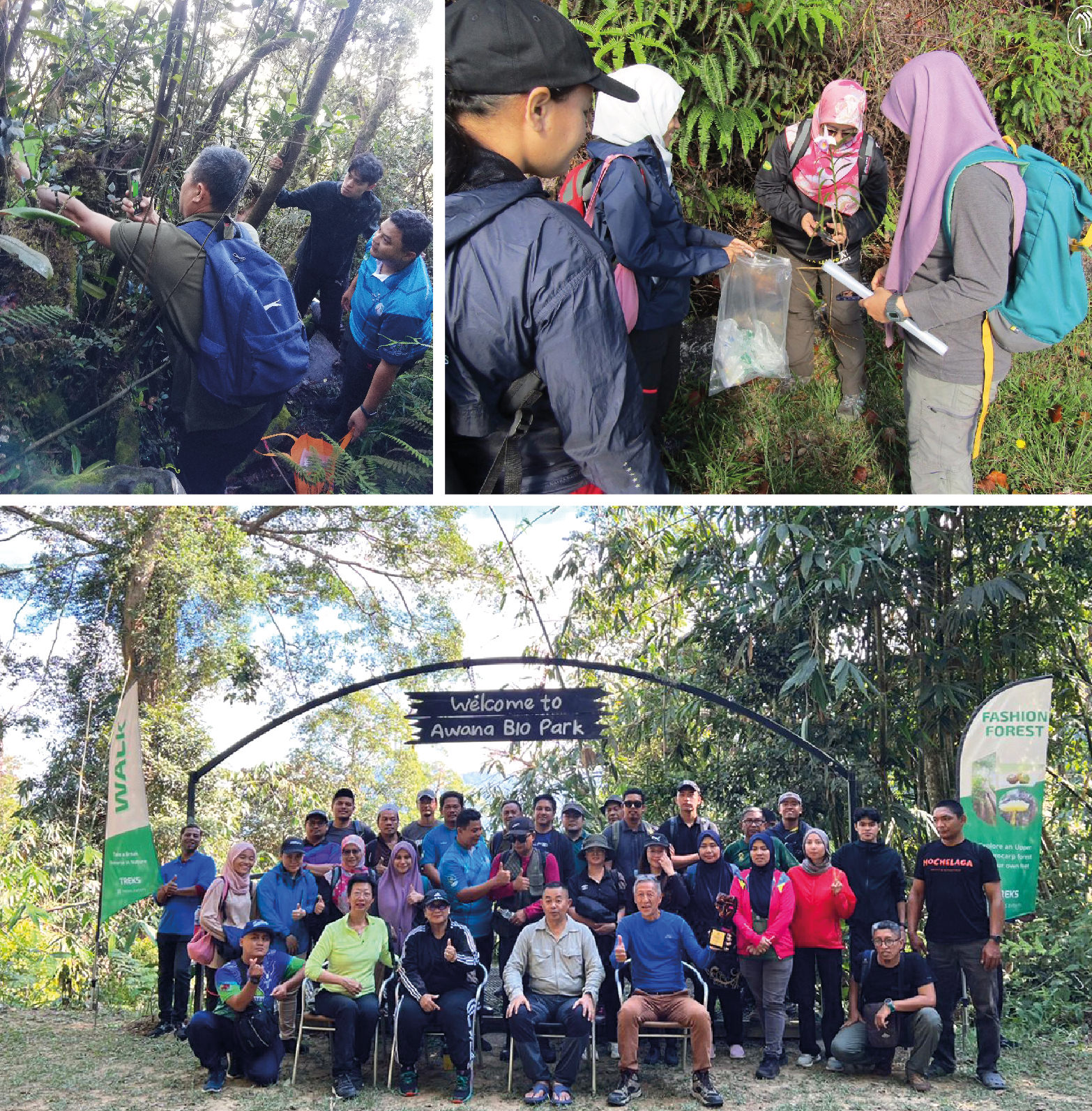 The highlight of the training course was a sharing session entitled Understanding the National Forestry Act. This provided an opportunity for instructors to articulate three important Malaysian laws that relate to the harvesting and international trade of forest products, namely the National Forestry Act 1984 (Amendment 2022) (Act 313), the International Trade in Endangered Species Act 2008 (Act 686), and the Access to Biological Resources and Benefit Sharing Act of 2017 (Act 795). These Acts regulate the issuing of permits for collecting forest products, oversee the endorsement of certificates and registrations, and stipulate a framework for enforcement. "Forest Products" here include plants found in or harvested from Permanent Forest Reserves, State Land or Alienated Land, as well as those listed in Schedule 3 of the International Trade in Endangered Species Act of 2008 (Act 686). Act 686 aims to regulate the international trade of species under CITES and ensure Malaysia meets its CITES obligations.

Several offenses are listed under Act 686, including the importing, exporting of scheduled species without a permit, and the exposing or advertising for sale and exhibition to the public any scheduled species that have been imported without a permit or certificate from the relevant authority. Therefore, if anybody collects scheduled species and posts them for sale on social media, this can be used as circumstantial evidence for arrest. In fact, Act 686 applies in addition to other laws, which it can override in the event of conflict. The FDPM acts as the Management Authority and Scientific Authority for CITES in Malaysia. All species of orchid are listed under either Appendix I or Appendix II in CITES, meaning that the import, export and re-export of any part or derivative of any orchid species requires a permit or certificate. One of the issues of legal offense raised during the discussion session was that orchid sellers sometimes enter the forest with only a permit for recreational activity and then collect wild orchids illegally – that is, without a permit for the collection of forest products from the forest department. It is emphasised here that, under a recreational activity permit, users are only allowed to enter the forest, enjoy the scenery and take pictures, but not collect forest products.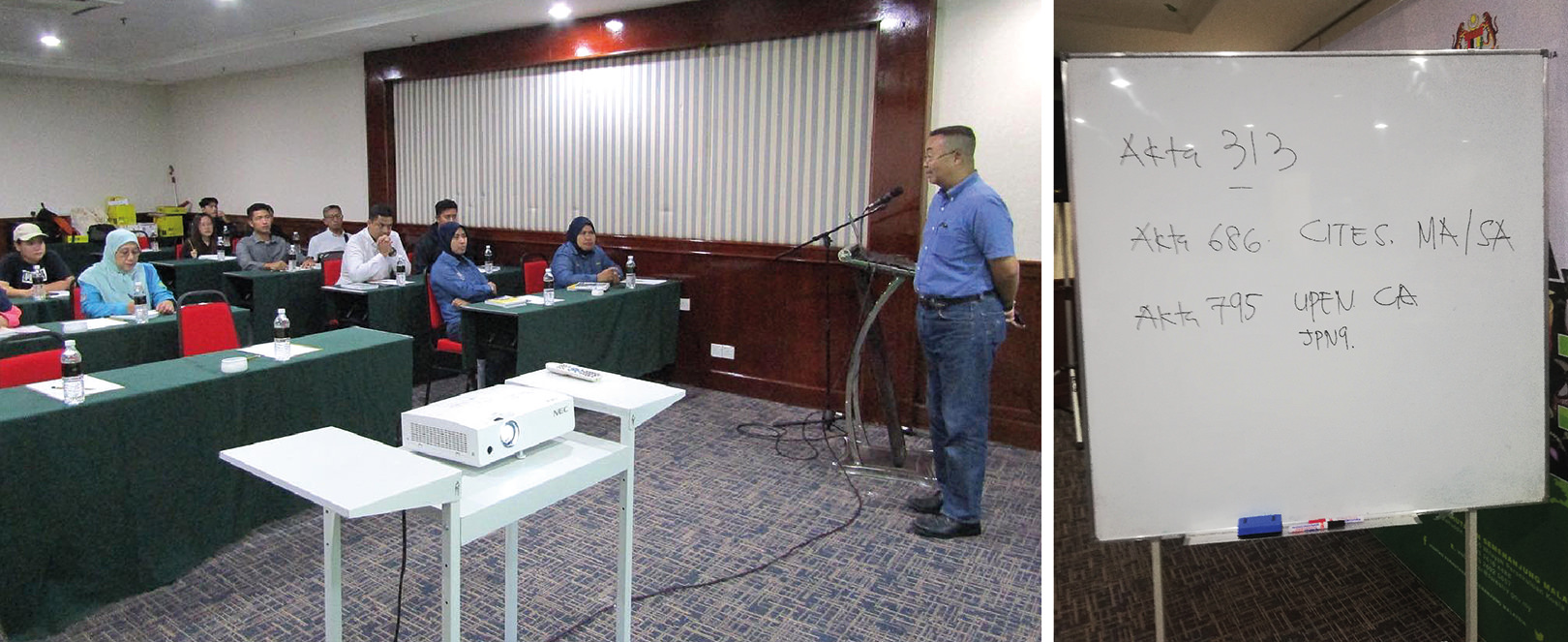 The last day ended with a sharing on Preserving, Protecting and Promoting the Biodiversity Assets of Genting Highlands by Eddie Chan, in support of the International Union for Conservation of Nature (IUCN) Red List of Threatened Species and the National Conservation List. Resorts World Genting Awana is also trying to preserve the forests at this site by opening the areas to the public to raise awareness and so ensure that the biodiversity at Genting Highlands is valued and conserved. However, in addition to developing tourism, communication on topics including mitigating environmental impacts and mainstreaming nature-based education is viewed as important for improving tourist satisfaction and experience.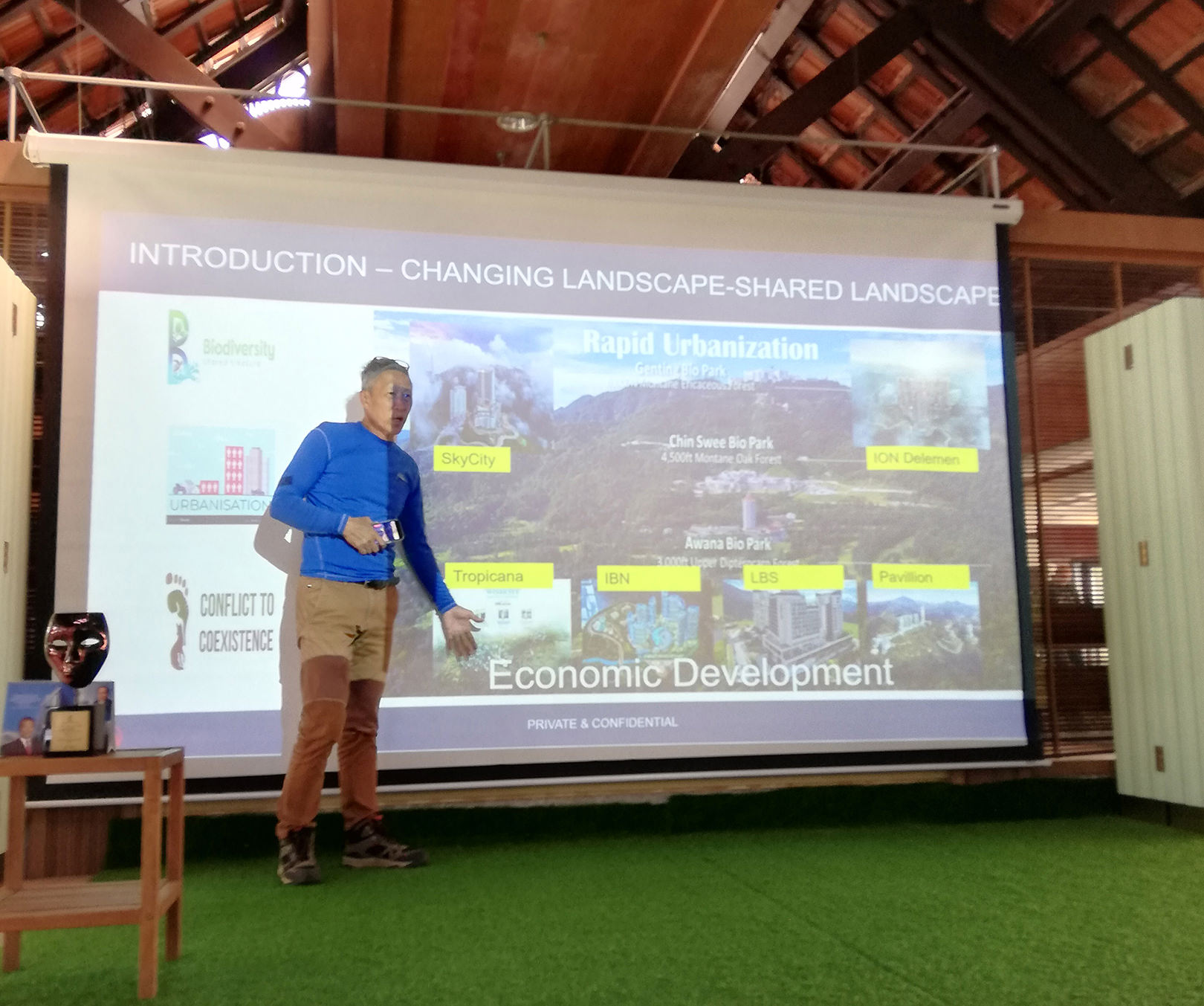 It is hoped that these efforts will help eliminate orchid species extinction as a result of habitat destruction and illegal trade. Through further in-house training, FDPM hopes to contribute to the development of more effective conservation for orchid species threatened by illegal collection, so that a measurable reduction in both international and domestic illegal trade of wild orchids is apparent in Malaysia by 2025.
Further reading
Visit these organisations' websites to learn more about their work.
Forestry Department of Peninsular Malaysia, https://www.forestry.gov.my/my/
Forestry Department of Peninsular Malaysia, https://www.facebook.com/jpsmofficial
Genting Nature Adventure, Resort World Awana, https://www.rwgenting.com/en/things-to-do/leisure/Genting-Nature-Adventures.html
Byers, O. & Seal, U.S. (2003). The Conservation Breeding Specialist Group (CBSG): Activities, Core Competencies and Vision for the Future. International Zoo Yearbook 38: 43–52.
Westley, F. & Miller, P.S. (2003). Experiments in Consilience: Integrating Social and Scientific Responses to Save Endangered Species. Island Press, Washington.
---
Rusea Go and Edward Entalai Besi work at Universiti Putra Malaysia and are Malaysia Country Representatives for IUCN SSC Orchid Specialist Group-Asia. Mohd Ridza Awang is the Director General for Forestry Department of Peninsular Malaysia. Mohd Ridzuwan Endot (Director), Khairuddin Perdan [Senior Assistant Director (Forest Biodiversity Control)] and Norulhuda Ali [Assistant Director (Forest Biodiversity Control)] are representatives from the Silviculture and Forest Biodiversity Conservation Division of Forestry Department of Peninsular Malaysia (FDPM). Eddie Chan is manager at the Environmental Services Department, Resorts World Awana, Genting Highlands. Tan Sin Hoong and Qistina Anis Mad Jabar are post-graduate students at the Department of Biology, Faculty of Science, Universiti Putra Malaysia. Debbie Sandin is a research assistant at the Department of Biology, Faculty of Science, Universiti Putra Malaysia.